Order Online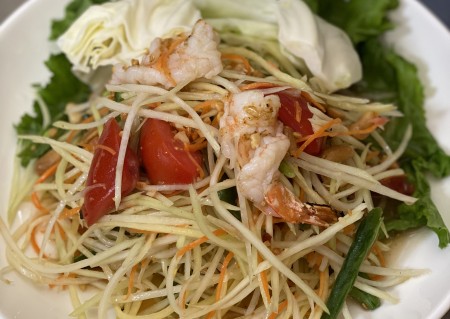 Papaya Salad
Fresh green papaya, carrot, tomato, green bean, peanuts, shrimp mixed with spicy lime juice..
---
0 customers Papaya Salad! Leave a review to let us know what you think.
You may also like
See those other items from Salad.
---
Grilled slice beef, tomatoes, cucumbers, carrot, red onion, mixed with spicy lime and romaine lettuce.

Combination of shrimp, mussel, white fish, squid, scallop, scallion, cilantro, red onion, tomato, cucumber mixed with spicy lime juice served with romaine lettuce.

Ground chicken mixed with spicy lime dressing, onion, carrot, roasted rice served with romaine lettuce and cabbage.